Healthy, easy to make quinoa and kale, can be made ahead of time and used as a main meal or a side, this delicious recipe comes from one of our own in house chefs.  They work so hard to bring everyone at Unite Fitness Retreat healthy, nutritious, and delicious meals!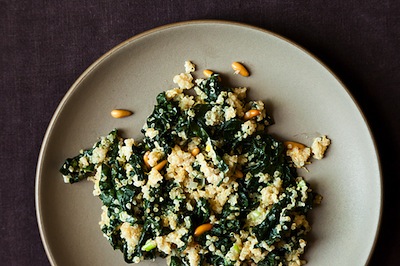 serves 2-4
2 cups homemade chicken broth (good quality low sodium stock can also be use)
1 cup quinoa
1 bunch of kale, washed and chopped into 1" lengths
1 lemon, zested and juiced
2 scallions, minced (green onions can
also be use)
1 tablespoon olive oil
3 tablespoons toasted pine nuts
1/4 cup crumble goat cheese
pepper to taste
1- bring stock to boil into a covered pot, add quinoa, cover and lower the heat until is just enough to maintain a simmer. Let simmer for 10 minutes, then top with kale and re-cover. Simmer another 5 minutes, then turn off heat and allow to steam for 5 minutes.
2- While the quinoa is cooking, take a  large serving bowl and combine half of the lemon juice (reserving the other half), all of the lemon zest, scallions, oil, pine nuts and goat cheese
3- Check quinoa and kale when the cooking time has been completed, the water should be absorbed and the quinoa tender but firm, and the kale tender and bright green. If the quinoa still has a hard white center, you can cook it a bit longer by adding more water if needed, when the quinoa and kale are ready, fluff the quinoa and toss it into the bowl with the other ingredients, mix well and add the other part of the lemon juice and a dash of black pepper.
Enjoy!