A Weight Loss Camp for Those from Alabama 
Many of our Guests come from Alabama to attend our Fitness & Weight Loss Camp
Unite Fitness Retreat is located in one of the most beautiful areas in the country,  Salt Lake City, Utah.  Known for the towering mountains, lakes, rivers, and unlimited recreation, it's no wonder Salt Lake is one of the most popular destinations for those looking for outdoor fun.  Every afternoon you'll get outside to experience the amazing recreation through every season for yourself with our guided hikes, snowshoeing, bike rides, kayaking, paddle boarding and more.  There is nothing like getting outside to discover what's inside.  Unite Fitness is a welcoming camp for ALL fitness levels, all abilities, and all demographics.  We keep our group size under 18 so you can all the attention you need and deserve.
Why so many weight loss camp guests from Alabama?
There are no weight loss camps in Alabama for adults.  In fact, the majority of those looking for a weight loss resort or retreat must travel outside of Alabama to another state or even out of the country.  We welcome our Alabama friends and are excited we get to be a weight loss solution for so many wonderful guests.
What about travel to Utah?
We are a just a quick plane ride away and we pick you up from the airport so you don't have to worry about renting a car.  Almost all of our guests travel in by plane to visit us.
"I was sick and tired of the way I felt and looked so I started researching every live-in weight loss program in the country, I decided on Unite Fitness Retreat for many reasons.  The biggest being that they were very structured and everything was included.   I am grateful from the bottom of my heart for this experience and these people (You guys are freaking amazing, all of you).  I can't begin to tell you how life-transforming the Unite program is and how much better I feel about my health and myself."-  Megan, from Mobile, Alabama
Why is leaving your home (and even country) a good idea when trying to make a big life change?
You will not have the "normal" distractions you have when at home.  All you need to do while attending your weight loss camp is focus on yourself and your personal wellness journey.  Being in a new environment, especially one where nature is a big part of the experience, will set you up for long term success.  When you do go back home to Alabama, you'll have the tools and resources to continue your journey at home.
Our Playground
The Wasatch Mountain Range is one of the most amazing wonders of Utah.  The towering mountains are just minutes from our retreat.  On the opposite side of this range, lies the Oquirrh Mountains.  From every angle of your private room, you'll get to experience beautiful views.
We love our state-of-the art gym, but it's important to get outside as much as possible and we do that all year long, through every season.   The Unite Hiking Program will get your heart rate up in breathtaking recreational areas.  From Park City to Millcreek, Snowbird to Antelope Island, each afternoon is an adventure.
Modern Accommodations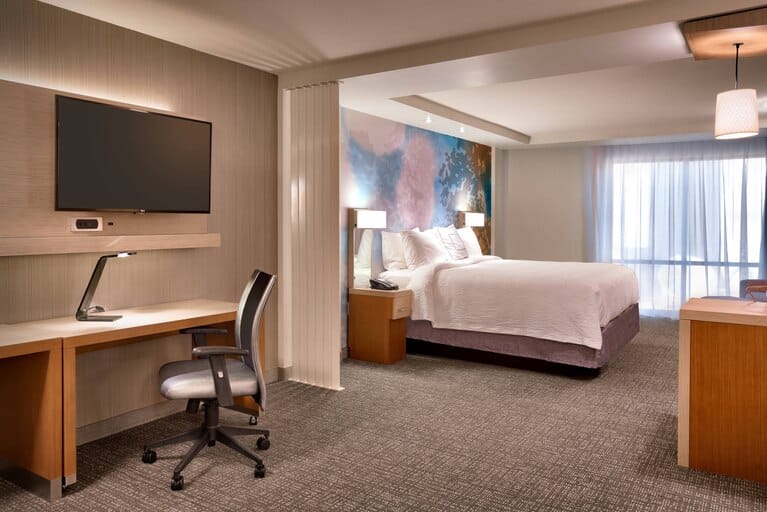 Unique, brand new, and modern our private guest rooms at the Marriott take a bold stance with iconic art and amenities sure to leave you relaxed and worry free. The newly built Hyatt House is the perfect home away from home while you are participating in your fitness and weight loss camp.  We offer a standard king room, king suite studio (upgrade) or two queens if coming with someone.  Also at the Marriott, Unite has a beautiful private dining room, comfortable life-coaching offices, and plenty of common space to relax, soak in the hot tub, take in a movie on the big screen, or visit with your cohorts.
Amenities Include
Private Rooms
42″ LCD Flat Screen TVs
Ergonomic Chairs
Premium Bedding
Modern Decor
Business Center
Pool table
Personal refrigerator, microwave, coffee pot
Free Parking
Free High Speed Internet Access
Swimming pool
Hot tub
Coin-op laundry
Nearby Walking Trails
Toiletries
Daily Cleaning
Bike Rentals
[fusion_widget_area name="avada-blog-sidebar" title_size="" title_color="" background_color="" hide_on_mobile="small-visibility,medium-visibility,large-visibility" class="" id="" /]
[supsystic-gallery id='5′]
"Unite does a really great job at finding the right "partners" for the retreat.  I especially loved the accommodations.  They were comfortable, very clean and had a modern vibe with the friendliest staff. I really enjoyed soaking my tired muscles in the hot tub in the evenings."  Terri, MA