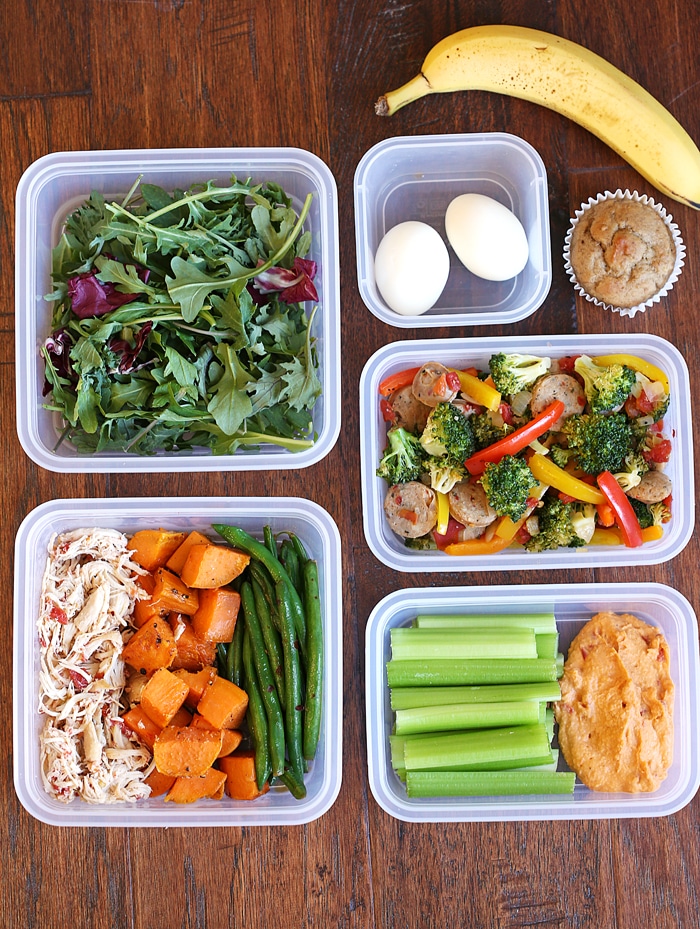 Unite Fitness Retreat Meal Prep Guide
Don't expect success, prepare for it!
1. PLANNING
2. GROCERY SHOPPING
3. COOKING
4. ASSEMBLY
1. TIPS FOR PLANNING:
Planning is the name of the game when adopting a healthy lifestyle and keeping it that way.  Meal prep and thinking ahead will make it simple and possible for you and your family to stay on track. And when done right, it will save you precious time and money.  Use the tips and lists to become a meal-prep pro, and step into the world of healthy eating.
• Select a day (and schedule it) to prepare a menu.
• Select a day (and schedule it) to go grocery shopping.
• Select a day (and schedule it) to cook/assemble your meals/snacks.
TIP: Decide how many meals/snacks you are prepping (you, spouse, kids?) How many days will you prepare at once? (most people opt for 3-4 days at once)
Make a menu for the entire week, even if you won't be cooking 4 all on one day. (Family menu, personal menu, etc.)
Refrain from using all new and unfamiliar recipes. Stick with what is familiar and branch out from there.
Duplicate as many food items throughout your recipes to maximize your
grocery list. COOK ONCE, EAT TWICE. Example: If you are having a ricebowl for lunch, make extra rice for Honey Sesame Chicken on night for dinner.
2. TIPS FOR GROCERY SHOPPING:
It may seem crazy, but there are ways to up your grocery shopping game that can save you time and money.  Consider the following:
Make a grocery list of everything you'll need for the week that corresponds to your menu.
Keep a running list (on your phone/websites/apps/notepad, etc.) of foods/ kitchen essentials you need as you run out and/or low.
Stick with your scheduled time to grocery shop.
Go to the store once a week with your prepared grocery list.
Shop at the same stores to reduce wasted time looking for certain items.
Tip: How long to keep food in the frig/freezer?
Ground raw meats (turkey, chicken, beef): 1-2 days fridge, 3-4 months freezer
Raw chicken or turkey pieces: 1-2 days fridge, 9 months freezer
COOKED meat or poultry: 3-4 days fridge, 2-3 months freezer
Hard-boiled eggs: 1 week fridge
Fresh eggs: 3-5 weeks fridge
Soups or stews: 3-4 days fridge
Sweet potatoes: 3-4 days fridge
Brown rice/quinoa/wild rice: 3-4 days fridge
Cooked veggies: 3-4 days fridge


TAKEAWAYS:

• Be Consistent!  Meal prepping only once will not bring you the desired results that you want. If you want to be successful in anything in life, you must repeat it over and over and over again until it becomes a habit. Same goes for meal
prep.

• Don't bite off more than you can chew.  Avoid feeling like you have to prepare every single meal of every single day for every single member of your family for a whole week.  Start small. Where to you personally feel like you struggle the most during the day? Is it lunch? Is it in the afternoon when you crush and want to curl up in the pantry in fetal position with a box of girl scout cookies sucking your thumb? (Been there, done that) Is it family dinners? Start there. Be successful and confident where you struggle the most, then move on from there.

• Cook once, eat twice. I don't know if I can beat this into your brain anymore.
• Don't overcomplicate it
• Laugh at yourself
• Be patient
• Love yourself for trying to improve your lifestyle
Adopting a healthy lifestyle can seem like a daunting task, but you can make it easy on yourself!  As long as you have a plan of attack and stick with it, a healthy lifestyle is just a few weeks away for you and your family.
Keep on hand the following :
o Sweet Chili Sauce
o Bragg's Liquid Amino Acid, Coconut Aminos
o Vinegars: Apple Cider Vinegar/Rice/Balsamic
o Cinnamon
o Sweetener: Stevia, Honey
o Oils: Sesame, coconut, avocado, grape seed, olive o BBQ sauce
o Garlic (buy already chopped in bulk)
o Onion
o Powdered Peanut Butter
o Powdered Cocoa
o Extracts/Flavorings
o Fruit
o Nuts
3. TIPS FOR ASSEMBLY:
Assembling your food ahead of time decreases the amount of time you spend in the kitchen during the week, which minimizes the chance for slipping off track, and it saves you time.
Discover your meal prep method
Bulk Cook: No assembly. All foods are cooked and in the fridge ready to be assembled at any given time.
Assembly Line: Pick one meal to assemble at a time. Lay out ingredients and containers.  Fill each container one ingredient at a time. (ALL meals, just snacks, just dinner, etc.)
Have the correct assembly tools on hand to make the assembly process easy: Food scale, measuring cups/spoons, food containers of all sizes, small cups with lids, baggies of all sizes
Incorporate a Mini-Assembly/Prep each night to save you time the next day. Take a few minutes each night to get your food ready for tomorrow. This should NOT be time consuming, but should be a time to do any "fresh cooking (like eggs or overnight oats) and to pack your bag/cooler to be prepared for the next day. This is also a great time to look ahead to dinner the next day and pull a frozen meal, crockpot meal, or meat out of the freezer to thaw.
Tip: Store foods appropriately: Luncheon Meat (opened): 3-5 days in fridge, 1-2 months freezer Luncheon Meat (unopened): 2 weeks fridge, 1-2 months freezer
4. TIPS FOR COOKING:
Having trouble finding efficiency in the kitchen? Cooking and chopping in bulk saves time.  It's as simple as that. You may want to use the following suggestions to turn your meal-prep routine into a well-oiled machine:
 Have a clean kitchen before you start this step in the process
 Stick with your scheduled time to cook/prep.
Tip: REMEMBER: COOK ONCE, EAT TWICE! For every item you cook, try to make it last for at least two meals/recipes that week.
Maximize your appliances as you cook, so you can cook multiple things at the same time. i.e., your oven, stovetop, rice cooker, crockpot, pressure cooker, grill, etc.
As each item is finished cooking, store in containers until you are ready to assemble your meals.
If you know you are going to need the oven to bulk cook several foods, cook one of them the night before while cleaning.
Chop any veggies and/or fruit that will be consumed over the next couple of days and store in appropriate containers.
Keep your kitchen stocked with these tools that will make your cooking, chopping life so much easier:
Cutting Boards
Knives/Utensils
Rice Cooker
Blender
Chopper of any kind
Pots/Pans/Baking dishes/cookie sheets o Crockpot and/or Pressure Cooker
Tip: Need variety? Many times, healthy food gets a bad reputation for being boring simply because it's not seasoned well.  Try these different seasonings/spices/sauces to spice up your meals:
o Season Salt
o Mrs. Dash
o Garlic Pepper
o Garlic and Onion Salt/Powder
o Smoked paprika
o Ranch powder
o Italian seasoning
o Taco seasoning
o Sweet Mesquite
o Flavor God
o Salsa
o Mustard
o Curry powder