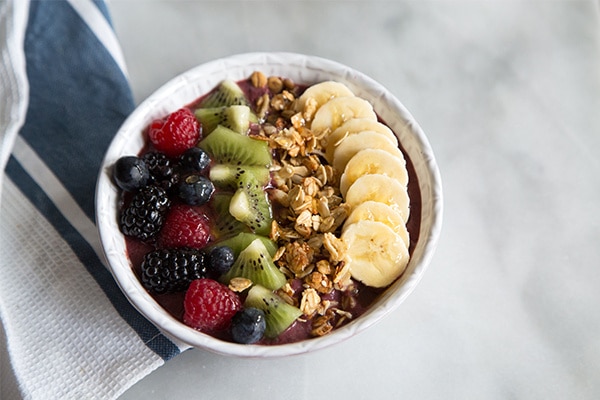 Acai Bowl with Peanut Butter
Eat like you're at a fitness camp!  Once a week, we enjoy an acai bowl.  There's a lot of good going on in the average acai bowl.  Fresh fruit, nut butter, almond milk, nuts, seeds—all are high-nutrient foods. The average acai bowl is filled with antioxidants, vitamins, minerals, fiber, protein and healthy fats.
INGREDIENTS:
• 2 tablespoons frozen Acai Berry Packs OR 4 Acai Berry Powder *get the good stuff, look for the lowest sugar option*
• 1 cup coconut milk or  fat-free milk
• 2 cups fresh strawberries
• 1/2 cup fresh raspberries
• 2 super ripe bananas
• 2 tablespoons nut butter OR natural peanut butter
 Topping ideas: pineapple, kiwi, and/or a few of your above berries, and 1/4 cup low-fat, low-sugar granola
---
INSTRUCTIONS:
Run the frozen acai berry packs under hot water and then squeeze them out into a blender. To the blender, add the coconut milk, berries, bananas, nut butter and vanilla. Blend until completely smooth. Pour the smoothie into a bowl. Top with a few leftover strawberries, raspberries, bananas, kiwi, and granola.