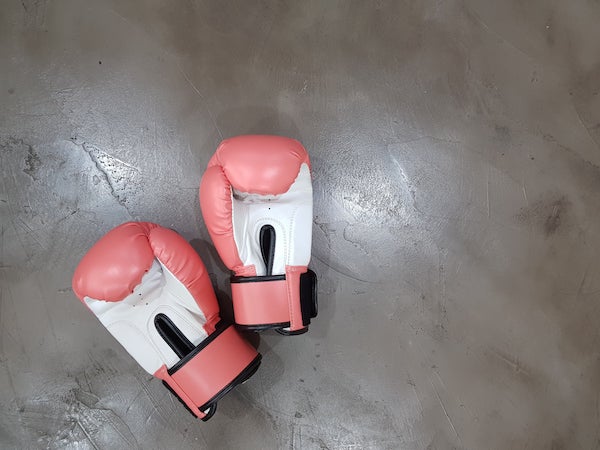 Why does our weight loss resort use specialty "boutique" gyms as part of our retreat?
Nowadays there are SO many fitness options.  You've got Zumba, CrossFit, pilates, spin, boxing, yoga, bar, F45, Orange Theory, and TRX to name just a few.  How can you possibly decide what you LOVE and what moves you without being exposed to a variety of options?  One way we explore fitness at our weight loss resort is to get out and learn from the experts.  Once (or twice) a week we partner up with some local Salt Lake City boutique fitness studios for fun intense workouts that are sure to make you realize what moves you.
A Weight Loss Resort Favorite: BOXING CLASS
It probably doesn't hurt that the boutique boxing studio we frequent (Boxing is for Girls), is led by one of the most inspiring personal trainers in the nation.  Eliza James shares her time between Salt Lake City and Malibu where she trains THE PEOPLE.  Her focus is boxing, but she does a lot more during her classes.  We make it to her studio every Thursday and our weight loss resort guests absolutely love her energy and her sweat inducing workouts.
Another Favorite Weight Loss Resort Class: PILATES
We all know how important form is, but did you know most of us are using improper form for a lot of our exercises?  Pilates helps dial in form and allows for deep stretching and elongating of the muscles so recovery can happen much faster.  Working reformer pilates classes into our weight loss retreat mix has made a huge difference in many of our guests' form, posture, agility, and balance.
Anyone Can Do CrossFit, Yes Anyone
Trish, one of our fitness experts is also a CrossFit pro.  She can create simple, modified CrossFit exercises for anyone.  We like to take our guests to a local CrossFit gym so they can experience the rush first hand.  The workouts are tough, that's for sure, but they can be geared toward all fitness levels and boy are they a fun challenge!
Mixing it Up to Keep it Up
At our weight loss resort, mixing up the "typical" exercises is one way we keep it fresh and new.  We want our guests to fall in love with fitness, in whatever way that works for them.   With so many options and the right exposure to these classes, we're sure our weight loss resort guests will discover what moves them so they will continue the journey at home.  In your own neck of the woods, there are probably many boutique fitness studios with many options, some even let you try a class for free.  Why not discover what moves you or better yet, spend a week or so at Unite Fitness Retreat and let us be your guide.