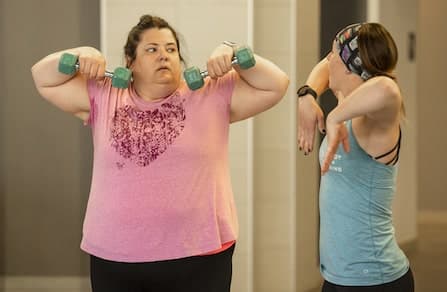 Are you looking for the best weight loss resort to join in 2020?
Unite Fitness Retreat is one of the best and for good reason.  Outlined are a few top reasons our program is one of the best resorts for weight loss in the country. Feedback from our clients, community, reviews).  First, let's check in with a past Unite client.  Denise from Michigan did her homework before attending a weight loss retreat.  She wanted structure, intense and varied exercise, and to change her relationship with food.  Check out her story:
---
How about client reviews?  Here is one posted to facebook the other day:
"My first Retreat.  So worth it!!  Beautiful mountains, delicious and nutritious food, wonderful trainers and staff.  Exactly what I needed for a mental and physical reset." Laura
Unite Fitness Retreat was voted the "Best Weight Loss Resort in Utah" in 2019 by City Weekly News.  In 2013 Unite took home 3rd place as one of the "Top New Start Ups in the state of Utah".  Unite also recently received a 2019 award as one of three "Top Weight Loss Center in Salt Lake City."
Clients tell US all the time WHY they think Unite is the best weight loss resort:
Our staff.  They are caring, kind, professional, and know their stuff.
Our philosophy.  Fitness & nutrition are just two pieces of the puzzle.  In order for real change to stick, we must work on the mindset and changing habits.
Our location.  Next to the mountains, unreal outdoor adventures, yet, in a real world setting so you can actually work on some of the triggers you'll be faced with when you go home (with support from the team).
Straightforward pricing.  Many Unite clients had actually attended other fitness camps and weight loss resorts in the past.  The Unite difference- NO, zero, nada add-on costs pushed, no up-selling, no supplements to purchase.  MOST weight loss resorts have a base price for lodging and food and some fitness classes then you are stuck adding on EVERYTHING (like cooking classes, personal training, grocery store tours, nutrition sessions).
If you are READY to get the absolute best jump start on your health and fitness and make your 2020 goals HAPPEN.  Call Unite Fitness Retreat today, 866-589-5615 to get started today.  We can't wait to meet you and help you transform your health.