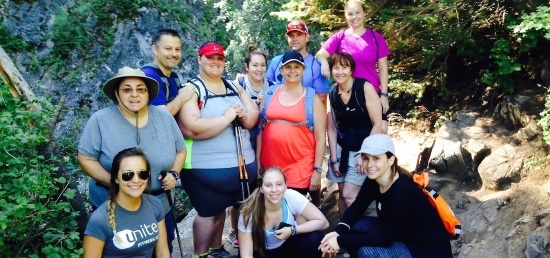 WHY UNITE FITNESS RETREAT?
---
At Unite Fitness Retreat we know the challenges you face to lose weight, we know how hard it is to get started and how hard it is to make those new habits and life-style changes stick. We are here to help you get on the right track and get in shape and get your weight under control, and we will be there for you after you go home.
We are a small fitness camp, we give you personal attention and tailor your workouts and nutrition to your needs. You won't get lost in the crowd here, you will have the time and opportunity to speak directly with trainers, nutritionists, and instructors.
We give you education, not fad diets. At Unite we want you to succeed in the real world, we want you to leave here and know how to navigate a grocery store or a restaurant menu and make healthy decisions. We want you to have lasting change, not a quick fix that doesn't leave room for life happening.
Guided daily exercise is the cornerstone of our program. We spend the first half of our day in the gym focusing on making ourselves stronger and fit. Our trainers work with you in small group classes as well as one-on-one to ensure that you get the most out of your time with us. We also know the body needs rest, we leave you plenty of time in the afternoon for the outdoors and the spa.
Changing behaviors and managing stress, we want you to succeed and when you get home we don't want you to slip in to your old habits and ways of thinking. You have the opportunity each week to meet with a certified life-coach in a private session to work on how to manage stress and triggers and understand the mind/body connection.
We give you real food. At Unite Fitness Retreat we believe in changing our behaviors and not relying on fad diets to get you to your goals. We will feed you three meals along with three snacks a day to keep your metabolism humming. No juices, no cabbage soup, and no magic pills. Just real food.
We give you after care and support. We don't just send you home when you've finished your fitness camp and hope you can manage on your own with no help. We help you overcome the hurdles and obstacles you face once you get home and support you with your continued weight loss goal. After care programs vary depending on the length of your stay, but you can always add more if you feel you need it.
---