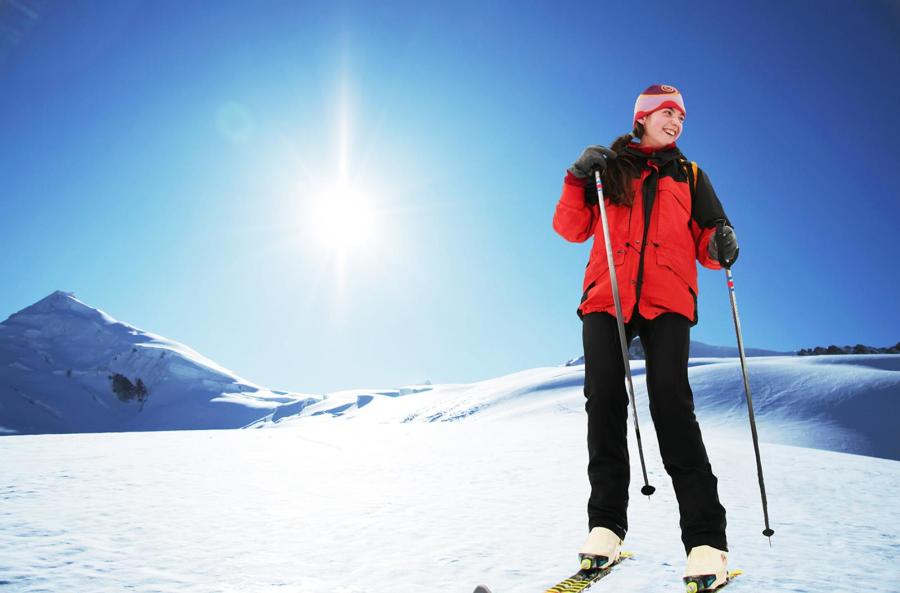 We can hibernate or we can get the proper gear and get out there and enjoy the weather with fun winter activities and sports! Last time I gave you tips to staying warm while keeping on track with your fitness goals, this time let's talk about what people actually DO to exercise in the winter.
One of my favorite activities in the winter is cross-country skiing! I love the peacefulness of being out in the snow and challenging myself with pace and distance goals. Cross-Country skiing is a full body sport, you're not just out there using your legs. In cross-country skiing you need your legs, arms, and core to keep you moving and that is exactly why it is such a good sport for your winter fitness goals! You'll get great scenery AND a full body workout! Plus, it beats pounding away the miles on a treadmill in the gym.
Let's talk traditional Nordic Skiing, which is a great base to learn before you move on to skate skiing:
When you Nordic Ski, you are kicking and gliding on a track that has been groomed and your stance is everything
Stand Tall!
Flex at the Ankles, not the Hip! When you do this your arms can move freely and propel you along more easily
Keep your Legs Stacked Under your Hips. Think about being ready to push and propel yourself forwards, almost like you are spring loaded, and coiled and ready to go with each stride
Keep yourself Balanced and Active! Don't tense up, keep your movements fluid and you will be able to relax, keep moving, and stay balanced.
Don't Start with Poles! Get your movements down, make sure your technique is right and then add poles. If you add them too early you will rely on them to make your movement for you and then it becomes just an upper body workout, which is exhausting.
Kick and Glide! That's it, that is how you propel yourself on Nordic Skis.

Any ski shop you go to will have skis and boots to rent. I am not an expert on this gear, so I leave it to them to fit me and it works every time! If you end up loving Cross Country skiing, buy yourself some gear, in comparison to downhill skiing it is a cheap sport!

There are fantastic places all over the country to cross country ski and some of my favorites here in Utah are the Nordic Center at Solitude, Millcreek Canyon, and of course Alta! My biggest piece of advice anytime you want to strap a plank of wood under your feet: Get A Lesson! Lessons are worth their weight in gold and are reasonably priced and usually include gear rental. Also, unless your buddy who says they can teach you is a proper instructor, just spend the money and take a real lesson. Neither your friendship nor your body need the pain that come with bad lessons! I know any resort here in Utah will have instructors ready and waiting to help get you out there having fun in the snow! This sport can be done anywhere there is snow but do yourself a favor and learn on groomed tracks, it will be easier and less frustrating for you.

Get out there and enjoy the Winter while staying on track with your fitness goals!